Meeting of the National Platform for Disaster Risk Reduction in Tajikistan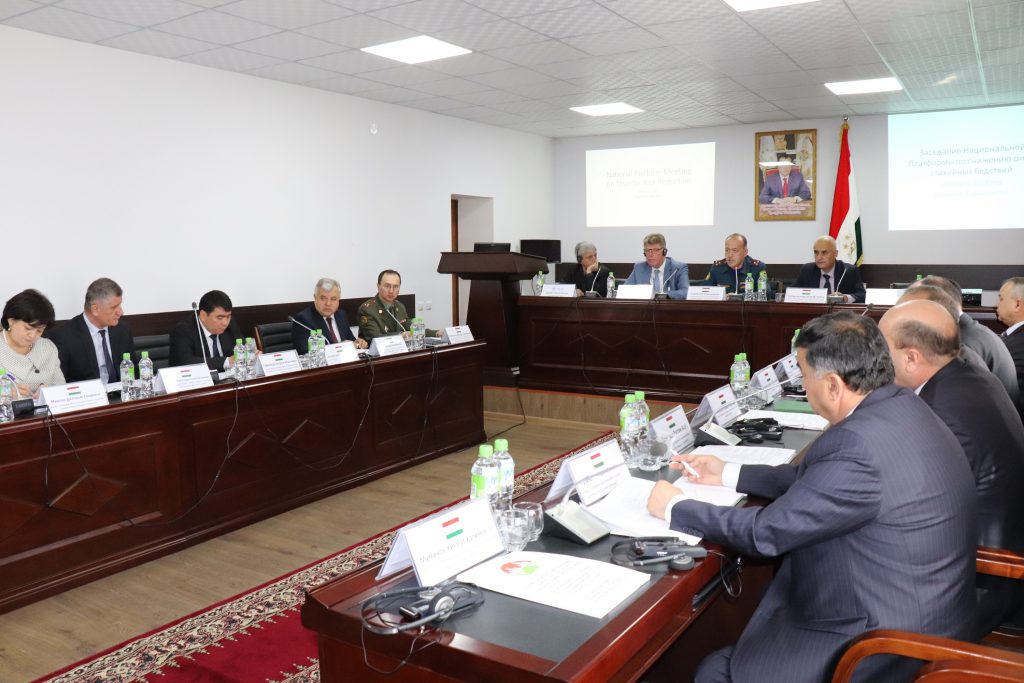 2 April, 2018 – Dushanbe, Tajikistan
On 30th March 2018 regular meeting of the National Platform for Disaster Risk Reduction chaired by Mr. Muhammadjon Salimzoda, the Deputy of the Committee for Emergency Situation and Civil Defence under the Government of the Republic of Tajikistan, was held in the Committee of the Emergency Situation and Civil Defense, with participation of representatives of line ministries, international agencies and donors.
The National Platform members discussed the recent resolution of the Government of the Republic of Tajikistan on the structural reform of the Committee for Emergency Situations and Civil Defense of Tajikistan (CoES). According to new resolution, CoES will be responsible for the implementation of state policy in emergency management and civil defense, legal regulation, provision of public services and state property management, implementation of a unified state policy for preparedness and protection of population, economic facilities and the territory of Tajikistan from emergency situations.
The process of provision of international humanitarian aid after an emergency situation was also presented to all meeting participants as a measure for timely response to disasters and well-coordinated interaction of state bodies and international organizations during emergency situations. was presented for the participants.
National Platform Meeting participants familiarized with the status of construction of the new building of CoES Republican Education and Training Center, with the results of the first cross border meeting on cooperation for disaster preparedness and response to emergency situations between Tajikistan and Afghanistan and updates on UNDP implemented projects with the financial support of the Government of Japan, the Russian Federation and Swiss Agency for Development and Cooperation.
Mr. Faizullozoda Sharaf Jabor, Deputy Head of National Platform - Head of the Department of Defense and Legal Procedure of the Executive Administration of the President of the Republic of Tajikistan, highlighted the importance of conducting advance planning in order to prevent disasters such as floods, mudflows, locust etc. to which Tajikistan are very vulnerable.
The National Platform for Disaster Risk Reduction in Tajikistan was established as part of the State Commission for Emergency Situations of the Government of the Republic of Tajikistan in March 2012.
The Platform serves a consultative and advisory body for coordinating the activities of organizations working on disaster risk management in Tajikistan. The capacity building of the National Platform for Disaster Risk Reduction is supported by UNDP with SDC funding.
Contact Information: Khursheda Aknazarova, Project Analyst (Tel.: +992 (44) 6005922, E-mail: khursheda.aknazarova@undp.org)
****
UNDP partners with people at all levels of society to help build nations that can withstand crisis, and drive and sustain the kind of growth that improves the quality of life for everyone. On the ground in 177 countries and territories, we offer global perspective and local insight to help empower lives and build resilient nations. www.undp.org.